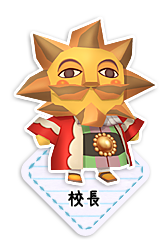 Principal Sol is the head of The School in Enchanted Folk and the School of Wizardry. He will sign new players into the school and give introductory lessons to new students.
Principal Sol has two forms. A Solar form during the day, and a Lunar form during the night.
Principal Sol can most often be found in The Tower. Here players can talk to him for information on Keys and to request evaluations. Reginald will remind players to speak to Principal Sol when they are due for Evaluations. Principal Sol holds evaluations for students in The Auditorium.
Ad blocker interference detected!
Wikia is a free-to-use site that makes money from advertising. We have a modified experience for viewers using ad blockers

Wikia is not accessible if you've made further modifications. Remove the custom ad blocker rule(s) and the page will load as expected.