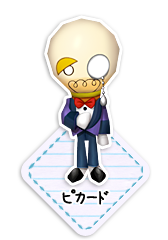 Piquard is a character in Enchanted Folk and the School of Wizardry. He an anthropomorphic lightbulb who runs Harrows, the furniture shop in The Shopping Avenue. Piquard sells a wide range of funiture, music, instruments, wallpapers and flooring. Players may order a specific piece of music from Piquard by whistling the tune to him. He will be able to tell you the name of it, and order it for the player.
Ad blocker interference detected!
Wikia is a free-to-use site that makes money from advertising. We have a modified experience for viewers using ad blockers

Wikia is not accessible if you've made further modifications. Remove the custom ad blocker rule(s) and the page will load as expected.