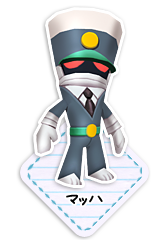 Mah is a living mummy who drives a taxi between Lovers Point and The Island. He will only speak to a player to ask if they want to travel, and to announce arrival at a destination.
Mah's Taxi is a giant Broom decorated as a New York taxi. The taxi can be called at Lovers Point or The Island at any time. The taxi is capable of carrying multiple students between these two points.
Ad blocker interference detected!
Wikia is a free-to-use site that makes money from advertising. We have a modified experience for viewers using ad blockers

Wikia is not accessible if you've made further modifications. Remove the custom ad blocker rule(s) and the page will load as expected.