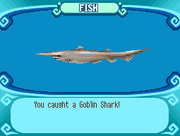 Goblin Sharks
are large
Fish
found in
Enchanted Folk and the School of Wizardry
.
Goblin sharks are a type of ancient deep sea shark. They possess long snouts and specialised jaws that can be extended when catching prey.
Goblin sharks can be caught in The Ocean at The Beach. They are fairly aggressive when being reeled in and can easily escape capture.
Ad blocker interference detected!
Wikia is a free-to-use site that makes money from advertising. We have a modified experience for viewers using ad blockers

Wikia is not accessible if you've made further modifications. Remove the custom ad blocker rule(s) and the page will load as expected.