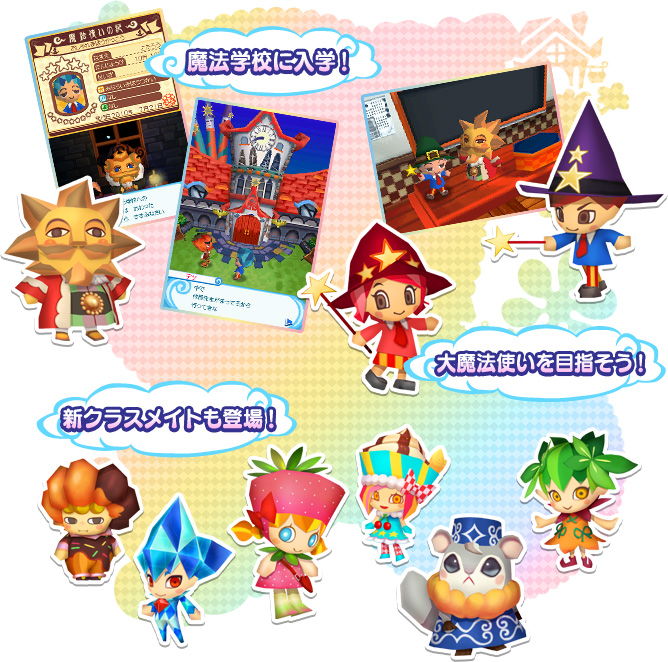 Welcome to the Enchanted Folk Wiki,
your gateway to information on everything about the games, Enchanted Folk and the School of Wizardry and Tongari Boushi to Mahou no Omise - from the magical spells and the school of wizardry to the villagers. This Wiki-based system is free and open to the public - you can contribute to the Enchanted Folk Wiki.

---
Which Life Sim game do you prefer to play?
Site news and updates
February 21, 2011
---
Hi everyone! Some great news. VG Wiki has kindly agreed to become affiliates with our Wiki! If you want create pages about games other than Enchanted Folk, VG Wiki is a good place to visit. The Wiki is quite empty at the moment (a bit like ours) and it would be really useful if you could help! Shayminboy
January 13, 2011
---
Recently, I've been trying to find out updates for Tongari Boushi to Mahou no Omise on the official Konami website. Translating everything from Japanese is pretty hard work but I've managed to gather some information on a few special Wi-Fi events. I will try to create pages on those soon. Shayminboy
January 1, 2011
---
The first update of 2011 and I would just like to say Happy New Year! I hope you guys have had a great 2010 and best wishes for 2011. I would like to say thanks to Juppeta for creating new pages on the Wiki. Hopefully, 2011 will be a good year for this Wiki! Shayminboy
November 11, 2010
---
Hey everyone! Great news! The sequel to Enchanted Folk and the School of Wizardry has just been released in Japan today! It is called Tongari Boushi to Mahou no Omise in Japan. Hopefully, we will see an American and European release soon because it looks like an absolutely brilliant game. I'll try to update soon. Shayminboy
Can you help us?
Please help this new wiki by creating new articles that relate to Enchanted Folk and the School of Wizardry. To write a new article, just enter an article title in the box below. (Please do not duplicate articles that have been already created)
Ad blocker interference detected!
Wikia is a free-to-use site that makes money from advertising. We have a modified experience for viewers using ad blockers

Wikia is not accessible if you've made further modifications. Remove the custom ad blocker rule(s) and the page will load as expected.